Merrell was born to Patricia and Leonard Jackson, the second child of five; four boys and one girl, Stephanie. Interestingly enough, three of the boys were all born on the same day! April 26, 1951 (Leonard Jr), 1952 (Merrell) and 1955 (Dwayne). They sang together as the "Soulful Three."
Merrell went to Calumet High School in the Gresham neighborhood of Chicago and not surprisingly, won many talent contests.

Author and classmate Janet M Henderson writes, "He had a star quality that everyone could see. When he appeared on stage to sing, dance or act, the audience always went wild, and he always gave a great performance."

During his senior year Merrell played King Melchior in a school production of the Christmas opera, "Amahl and the Night Visitors" that was shown on local television.
Merrell was a baritone in Calumet High School's A Cappella Chorus, under the direction of Alice Maguire, and he also sang in the All-City High School Chorus. In the summer of 1971 he was awarded a scholarship to go to the National Youth Chorus Workshop at Wolf Trap American University Academy for the Performing Arts in Washington, DC.
Merrell was one of 25 selected performing arts students who appeared on the WMAQ-TV musical special The New Performers: Chicagoland '71.

That year he also toured with the Goodman Theatre, appearing in the children's musical comedy, "The Magic Isle." He was an understudy in the Chicago production of the rock musical "The Me Nobody Knows."
His big break came in 1972 when he auditioned for the Chicago stage production of Godspell, but was cast for the film instead! After filming ended in New York, he joined the Chicago stage cast of Godspell until the show's run ended in August 1973.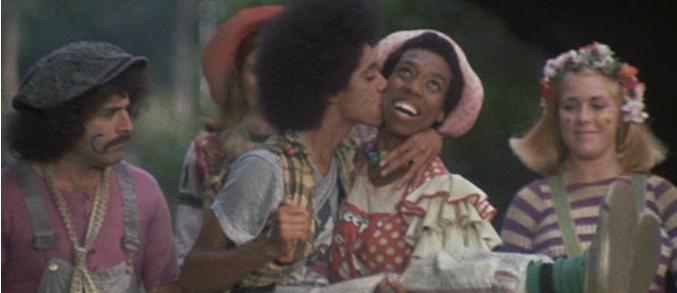 After that, there is talk that Merrell went back to New York to find theatre work, and performed in some plays such as The Wiz. He is not listed in any Broadway databases though that I can find. If you are family or friend of Merrell, please contact me to verify or add information using the top left "contact me" link. I'd love to hear from you!

All good gifts around us... are sent from heaven above. Merrell, you are one of those gifts, an eternal gift, hand-picked by God to live on in a film that will forever touch lives.